Just arrived in Brisbane? The capital of the Sunshine State has so much to offer, so it pays to know exactly where to put your energy.
Whether you're hoping to spend as little as possible, are looking for something to splurge on, or literally have $0 in your bank account, there are great things to do for every budget under the sun.
CASH TO SPARE? STAY THE NIGHT ON STRADBROKE ISLAND
Worlds away, yet right around the corner, Stradbroke Island is an awesome spot for a quick getaway. Just a short trip from Brisbane, Stradbroke Island looks like heaven, and well… it is.
Here, you can get up close and personal with Aussie wildlife – you'll spot koalas, kangaroos and dolphins at nearly every corner. As Queensland's most easterly point, Stradbroke is also a prime spot for whale watching from June to November.
Embrace your inner history buff and learn about the Island's traditional owners – the Quandamooka people. Don't worry, Stradbroke will feed your inner water baby, too. You can snorkel, swim, surf, kayak, fish… pretty much anything you can do in water, you can do on Stradbroke Island.
Once you've made the most out of everything this stunning paradise has to offer, you're definitely going to be too exhausted to head back to Brisbane, so stay with us at Stradbroke Island YHA and make memories with your new best friends.
Ferries from Brisbane to Stradbroke can be a little pricey, but given that everything you just read is only the tip of the iceberg… well, it's probably worth the investment.
GOT A FEW DOLLARS? BEST CHEAP BRISBANE ACTIVITIES
CUDDLE A KOALA AT LONE PINE KOALA SANCTUARY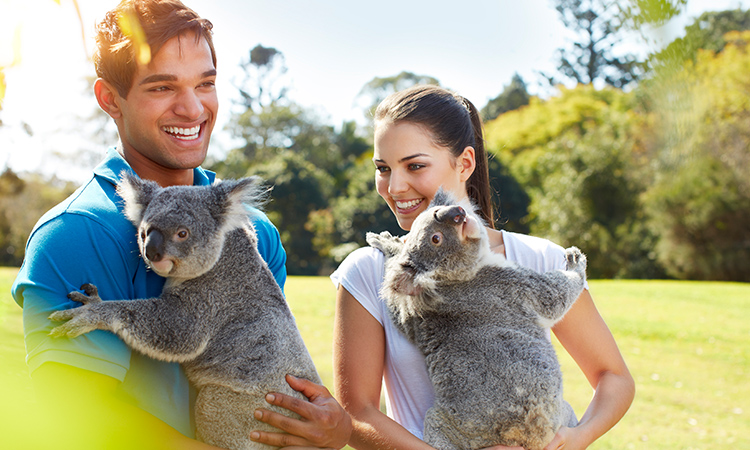 Credit: Brisbane Marketing
Lone Pine is the world's first and largest koala sanctuary! It opened in 1927 as a refuge for orphaned koalas at a time when the species was being culled for the fur trade. Today, Lone Pine is an iconic attraction enjoyed by visitors and locals alike, housing over 100 species of native Aussie wildlife, which you can see for only $34.20 for an adult ticket or $21.60 for concession. If you're willing to spend a little more, enjoy a premium wildlife experience where you can hold a koala, feed a platypus and walk with a dingo!
Free outdoor movie screenings also take place on the first and third Fridays of the month, screening a range of family-friendly old favourites and relatively new movies. With a whole lot of activities that are a joy at any age, don't leave Brisbane without visiting Lone Pine.
FILL UP AT EAT STREET NORTHSHORE
View this post on Instagram

Travel buffs agree: there is nothing like Eat Street anywhere in the world! Priceless river and city views frame a giant complex filled with dozens of shipping containers that are actually street food stalls. Eat Street is a truly special place that reflects Queensland's tropical, breezy way of life – call it Brisbane's Disneyland. For just $3 entry, you'll have access to over 70 international street food vendors, serving up everything from paella to Japanese pizzas. The meals themselves are backpacker budget-friendly too – you won't find many mains for over $20.
Enjoy the beautiful artwork, live music and friendly vibe as you wander through the stalls in search of the perfect tasty treat to scratch whatever itch you might have. A crowning jewel of not just Brisbane but Queensland as a whole, Eat Street is an absolute must-do.
DRINK UP AT A BRISBANE BREWERY
View this post on Instagram

Brisbane has embraced the craft beer bandwagon with both arms! If you enjoy good food, great vibes and crisp cold beer, look no further than Newstead Brewing Co. This gem was born in a 1940s steel warehouse, with much of its initial design still in place. This much-loved brewpub has 12 taps on offer, with eight brews direct from the tanks. Whether you're into pale ale, lager or you're more of a cider person, there'll be something for your tastebuds – as well as classic yet inventive pub food to soak it all up.
A hop, skip and a jump away, you'll find Green Beacon Brewing Co, set in another rustic warehouse. The Green Beacon team lives and breathes beer – they treat beer like produce, not a product, and each brew is made with love. At the brewery, the team serves up their famous range of six preservative-free beers, as well as tasty seasonal rotations. Wash it all down with some fresh Queensland seafood and you've got a fabulous day out, only costing you whatever you enjoy.
WANDER AROUND DAVIES PARK MARKET
View this post on Instagram
If you love markets and your money going somewhere useful, look no further than Davies Park Market in West End. Open every Saturday, this a popular hangout for locals and visitors alike. Weave between stalls upon stalls of fresh produce, healthy fast food, fashion and gifts, under a canopy of stunning giant fig trees. Fuel up for the day with freshly ground coffee and mini Dutch pancakes (or a tasty Hungarian langos, as shown in the picture above), and spend hours bargain-hunting and picking up some ethical, handmade goodies.
Everything you spend here helps support local growers, designers and artists so that they can continue living their dream and producing fantastic goods for the entire country to enjoy. You'll love the laidback community vibe, the friendly vendors, and just taking it all in. You don't have to spend much or anything at all, but if you do, know that you're helping the people who make our fair country great.
GOT $0? BEST FREE BRISBANE ACTIVITIES
LAZE AROUND ON STREETS BEACH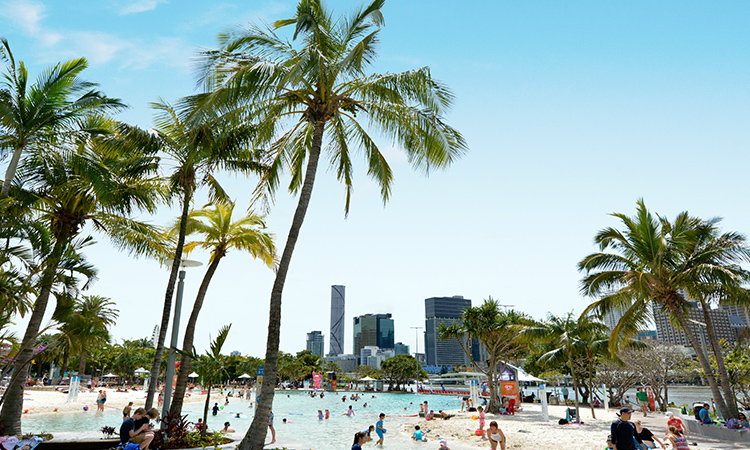 Credit: Tourism and Events Queensland
In spite of being the capital of the Sunshine State, there aren't really any beaches in Brisbane. So what do you do when you don't have a beach? You build one! An icon of the popular suburb of South Bank, Streets Beach is a must-visit. Overlooking the Brisbane River and CBD, it is Australia's only inner-city man-made beach – a sparkling lagoon surrounded by white sand and sub-tropical plants.
It's a popular family spot, with free barbecues, sheltered tables and green lawns nearby, as well as funky cafes and restaurants if you get hungry. However, you can enjoy everything the beach has to offer for $0. Get there early to secure a good spot, bring a picnic and settle in for the day – with your wallet stashed firmly away.
HAVE YOUR MIND BLOWN AT QAGOMA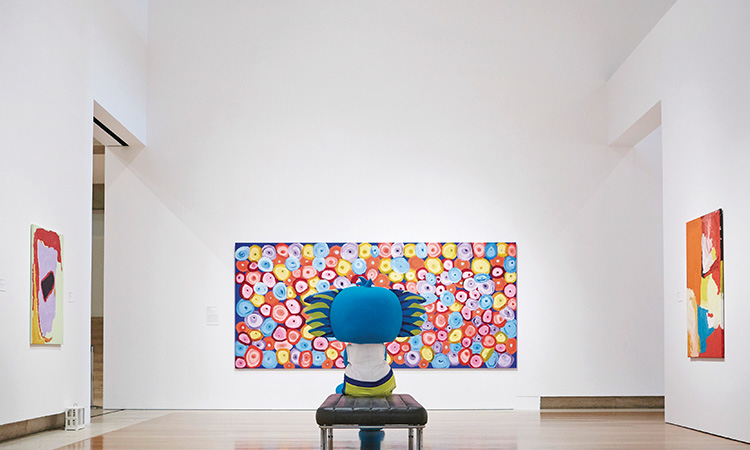 Credit: Tourism and Events Queensland
Still in super-cool South Bank, you'll find the Queensland Art Gallery and Gallery of Modern Art – the largest gallery of modern and contemporary art in Australia! QAGOMA has featured a huge array of intriguing exhibitions in a short space of time, from Andy Warhol to Picasso to Marvel (as in the comics!). The program is constantly evolving with Australian and international exhibitions, with a focus on contemporary Australian and Asian art. The best part? Entry will cost you absolutely nothing!
QAGOMA is also part of the Queensland Cultural Centre that includes the Queensland Performing Arts Centre, the Queensland Museum and the State Library of Queensland – when you're done with QAGOMA, make sure to check those out!
ENJOY THE #VIEWS AT MT COOT-THA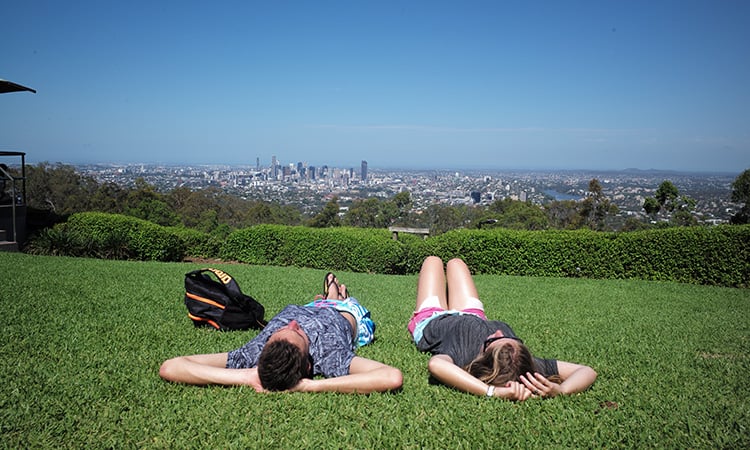 Brisbane Lookout, or Mt Coot-tha, is a must-see for everyone who sets foot in Brisbane. Rich in history, Mt Coot-tha was once a place where Indigenous Australians collected honey. Today, it is a favourite spot for locals and visitors alike and is not to be missed. Mt Coot-tha boasts panoramic views over the CBD, all the way to Moreton Bay. Stunning during the day and ultra-romantic at night, be sure to visit at both times to get the full experience. No surprises that it's the perfect spot for a picnic with your significant other or some friends.
You can enjoy a day out walking the bushwalking trails, wandering the Brisbane Botanical Gardens, checking out Sir Thomas Brisbane Planetarium – and still spend absolutely nothing. If you feel like spending a little or a lot, enjoy a meal at Kuta Café or Summit Restaurant and Bar. Whatever you decide, just make sure you get there!
COOL OFF AT ENOGGERA DAM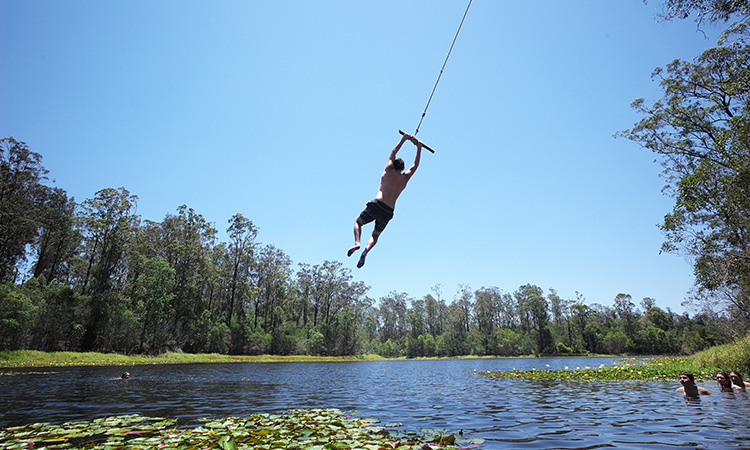 A heritage-listed reservoir, Enoggera Dam is one of Brisbane's most popular swimming spots. It was the first major dam built in Queensland and the second major dam built in Australia. It is one of the few remaining functioning reservoirs in Queensland, and as such, it is loved by locals. Located in the leafy suburb of The Gap, you'll find that swimmers of all ages, families, kayakers and canoeists flock here on weekends to enjoy this quaint spot. You can even fish here if that's your thing!
Be sure to walk around the edge of the dam along the Araucaria Track, for prime views and lots of benches where you can sit and take it all in. Keep your eyes open to spot a platypus, goanna, snake kingfisher and plenty of water birds.
---
YHA is the biggest budget accommodation network in Australia. With more than 80 hostels around the country, there is a YHA ready to welcome you wherever your wanderlust might lead.