In country Queensland, a giant watermelon has recently beaten a giant peanut to become Australia's next Big Thing. Yes, that actually happened. Australia is renowned for Big Things – giant sculptures of bizarre objects ranging from a pineapple to a lobster, scattered all around the country. There are over 150 big things Down Under, and we think a few of the lesser-known sculptures need some attention. We've picked out ten of our favourites, one of which was Australia's first-ever Big Thing. And no, it's not the Big Banana!
THE BIG GOLDEN GUITAR – TAMWORTH, NEW SOUTH WALES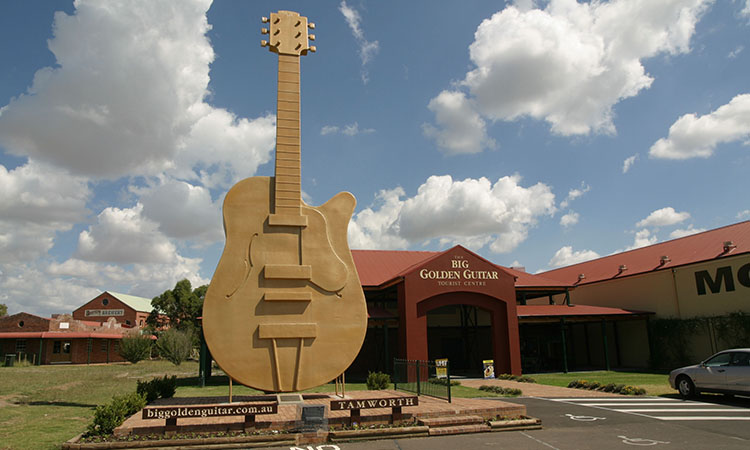 Photo: Tourism Tamworth
One of Australia's biggest and best Big Things, the Big Golden Guitar, can be found in Tamworth – rustic, quintessential, country Australia. Erected on the New England Highway in 1988, it is a replica of the award given at the annual Country Music Awards of Australia, for excellence in the Australian country music industry. Tamworth has been long established as Australia's heart of country music, with the Awards occurring during the Tamworth Country Music Festival, an experience not to be missed.
THE BIG PRAWN – EXMOUTH, WESTERN AUSTRALIA
View this post on Instagram
Outside the Ningaloo Visitor Centre stands Exmouth's Big Prawn, not to be confused with the Big Prawn in Ballina (yes, there are multiple Big Prawns in Australia). This iconic fibreglass sculpture was originally located outside a local seafood company but was recently donated to the Shire of Exmouth Council as an attraction. Why a prawn, you ask? Exmouth is famous for its fresh seafood, in particular – you guessed it – king and tiger prawns. Take a selfie with this loveable seven-metre-tall crustacean before losing yourself in the clear blue coral reefs and perfect serenity of Exmouth.
THE BIG HEADPHONES – NEWCASTLE, NEW SOUTH WALES
View this post on Instagram
The Big Headphones is the coolest Big Thing you've never heard of. The three-metre-tall sculpture is actually a massive amplifier from which you can play music. If you don't have any, the Big Headphones will play some for you from a curated playlist. Awesome, right? It gets better! By visiting this quirky attraction, you can help support a great cause. The Big Headphones is an initiative built by not-for-profit The Headphone Project, which helps local musicians be heard. Buskers can plug their instruments into the Big Headphones and share their gift with visitors to bustling Darby Street, day and night.
THE BIG SCOTSMAN – ADELAIDE, SOUTH AUSTRALIA
View this post on Instagram
You've never heard of this guy, right? Well, he's the whole reason we can write this article! The Big Scotsman – affectionately known by locals as "Scotty" – was designed and built in 1963, beating the famous Big Banana by a year. Scotty is said to signify the beginnings of Adelaide as a hub for Australia's best artworks. His designer, Paul Kelly, also went on to create the Big Lobster in Kingston. Standing at five metres tall, you'll find Scotty chilling at Nottage Terrace in the suburb of Medindie. It's definitely worth a visit – you can brag to your friends that you've seen the statue that started a phenomenon!
THE BIG BANANA – COFFS HARBOUR, NEW SOUTH WALES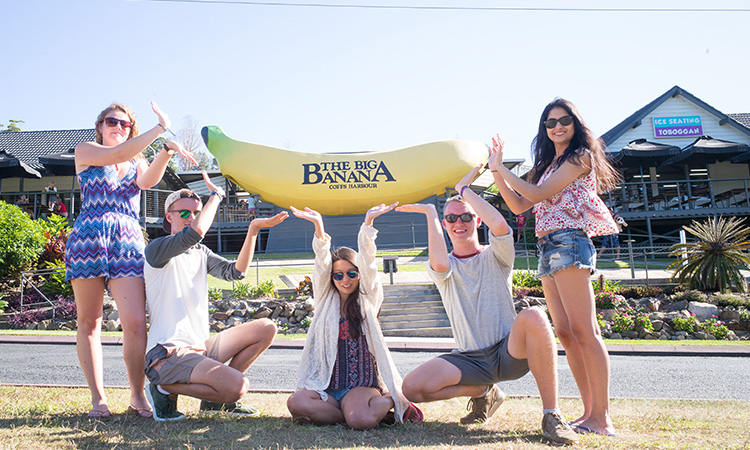 The Big Banana may not be Australia's first Big Thing, but it's definitely the most famous. No visit to stunning beach town Coffs Harbour is complete without checking out this novelty banana turned amusement park. The Big Banana started with an idea and a dream – in 1964, an Aussie grower wanted something to make passing traffic stop at his roadside banana stall. Today, the 13-metre-long, five-metre-tall sculpture is only the tip of the iceberg. The Big Banana precinct is now the biggest water park between Sydney and the Gold Coast and also features a toboggan ride, ice rink, giant slide and a plantation tour. You can make a full day out of seeing this iconic Australian treasure, and we highly suggest you do so.
THE BIG CASSOWARY – MISSION BEACH, QUEENSLAND
View this post on Instagram
It's highly likely that you'll spot a cassowary during your visit to Mission Beach, so it's only fitting that Mission Beach's resident Big Thing is a cassowary! The Big Cassowary in Mission Beach is located just outside the Wongaling Beach Shopping complex. In particular, it's modelled after the southern cassowary, which is native to Australia. Despite their shy nature, when provoked, cassowaries can inflict serious injuries to humans, so it's best to keep your distance. But, unlike live cassowaries, this big guy is totally safe to pet and take photos with – all four metres of him!
THE BIG PELICAN – NOOSA, QUEENSLAND
View this post on Instagram
Built in 1977, the 11-metre-tall Big Pelican is an icon of the Sunshine Coast with a colourful history. He started out as a float for a parade and was such a hit, he became the pride and joy of the Sunshine Coast, making appearances at a number of events to the delight of adoring crowds. You could hop inside him and make him open and shut his bill and wiggle his tail; previous passengers have included celebrities and politicians. Today, he's happily retired with a permanent home in the heart of the city at Pelican Boat Hire by the Noosa River. Don't leave Noosa without paying him a visit.
THE BIG WAVE – PHILLIP ISLAND, VICTORIA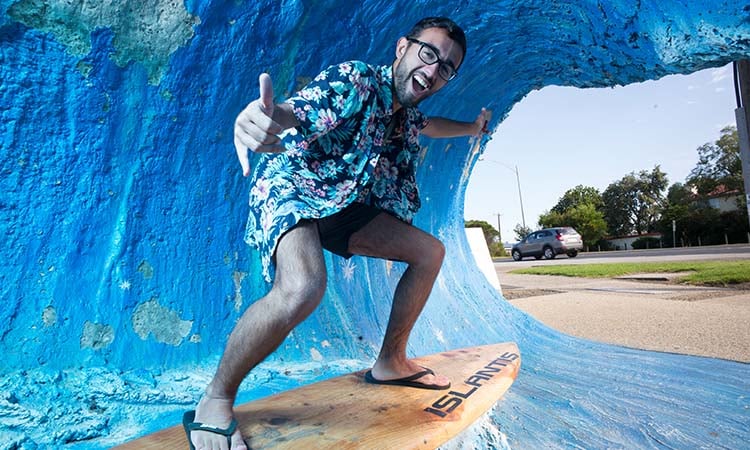 This one is pretty self-explanatory. The Big Wave is, well, a big wave located in the Big Wave Complex amid surf shops and ultra-hip cafes. Phillip Island is famous for its surf (and penguins), but if you don't know wax from a wipeout, you can always practise your best surf stances safely in the Big Wave. It looks just like the real thing, we promise. Cowabunga!
THE BIG DUGONG – ROCKHAMPTON, QUEENSLAND
View this post on Instagram
Information about this sculpture is as elusive as the animal it is modelled after. This is one of the only Big Things that isn't free to see, as it's located in Rockhampton's Dreamtime Cultural Centre. However, at a massive 22 metres in length, we'd say it's definitely worth paying a small entry fee to see this guy, learning everything there is to know about Aboriginal and Torres Strait Islander culture in the meantime. Try your hand at boomerang throwing, see a haunting didgeridoo performance, and of course, take a photo with the Big Dugong and find out why this incredible mammal is so important to Indigenous culture.
THE PUBLIC PURSE – MELBOURNE, VICTORIA
In 1994, the City of Melbourne called for design submissions for unique and distinctive forms of street seating. The result was the Public Purse, created by British artist Simon Perry, with a vision to "signify an interaction between the city and the citizens, the public and the private." The Public Purse is open to a number of interpretations. Some say it looks like a giant clam, others see it in its intended form – an oversized dropped purse, a symbol of its retail surrounds. Whatever it is, it's a beloved icon of Melbourne that you should definitely get a picture with while you explore Bourke Street Mall, Melbourne's incredible shopping hub. Just don't forget your real purse – you'll need it around here!
---
YHA is the biggest budget accommodation network in Australia. With more than 70 hostels around the country, there is a YHA ready to welcome you wherever your wanderlust might lead.